>>>>> A very big Asante Sana (thanks a lot!) to Parma Ham for this sponsored post
Firenze, 2003. My first international trip alone, for a summer study program of Italian language and culture. Which meant language class in the mornings and exploring Florence in the afternoons. Oh, and food and dancing in the evenings, of course, which were the universally agreed-upon, unofficial coursework.
I don't remember a lot of Italian language anymore–that brain space seems to have been crowded over with other semi-useless information, such as how long Challerhocker cheese ages for and the translation of items on a Chinese dim sum menu. Eh, priorities. What I do distinctly remember, however, were my first tastes in Florence. I don't have the photos, but I have memories.
I remember, very vividly, the first caffè I stepped into, after checking my cobblestone-destroyed bag into a hostel. That cavernous, industrial-looking caffè—before the industrial-looking cafe/bar was a thing in the US. The long, marble, L-shaped bar, stacked two deep with Italians ordering their morning shots of coffee like stockbrokers brokering on Wall Street. I like to think that I faked it well enough as I boldly strode through the crowd of italians, ordering a macchiato—which, up until that point, I thought was a sweet, frothy, rich drink (a la starbucks' Caramel Macchiato). Anyway, I savored my first sip of jarringly potent milk-dotted espresso, and lingered that morning far longer than any other Italian. So much for faking it.
After getting sufficiently buzzed off the one shot of Italian espresso, I wandered the streets of Florence, beginning what is becoming a lifetime of getting lost in foreign cities. Back and forth random streets, sometimes accidentally on the same street as before. I noted many a sidewalk cafe, bakeries, delis, more coffee shops. And many sidewalk sandwich storefronts. On my long meandering walk, I made sure to note the selections of each of these and the varying degrees of freshness of their offerings. Not that I could have found my way back—not intentionally, at least, not yet. After much thought and deliberation, I picked one vendor, and from him I ordered a panini in my broken, level-2-of-American-University Italian. Prosciutto, mozzarella, arugula, and olive oil, smushed between a piece of bread that had been cut lengthwise through the middle. Not grilled, like they do to the panini in the US, but fresh, like the do the panini in Italy. The olive oil was so liberally poured into the sandwich that the wax paper wrapped around the sandwich started to weep with a yellowish-greenish hue.
The sandwich was crudely re-wrapped in another sheet of white wax paper, and for several Euro, it was all mine. I was handed the sandwich and a few napkins; not even a paper bag to take away. I can't tell you where I stayed that night, or the names of two of my roommates on the program that summer, but I do remember that sandwich, for its rich and fruity olive oil, the meaty yet pillowy mozzarella, the spicy arugula—but most of all, because of that prosciutto, my first real taste of prosciutto.
Ever since, I've been a sucker for cured meats, prosciutto in particular. I was excited when Honest Cooking invited me to participate in this little project, which asked nothing more than to use Prosciutto di Parma in a dish. I've settled with a great recipe that I've recently invented, which works well for a dinner for two or a dinner for ten. For larger parties, you can do most of the work ahead of time, holding off until your guests arrive to pop it into the oven for the last 25 minutes to finish off.
This recipe takes a classic French-inspired American favorite, the Chicken Cordon Bleu, and adds an Italian twist. Swirled with prosciutto di parma, mozzarella cheese, and baked with tomato sauce, it really does encapsulate the flavors that I tasted not only on my first day in Florence, but throughout that summer in Italy.
Follow Parma Ham on Twitter for a chance to win $50 worth of the world's most famous ham. Click on the banner below to participate. This post is a collaboration between Peeps From Abroad and Parma Ham.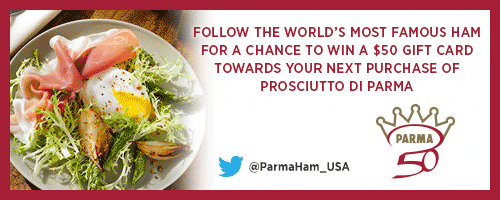 My Florence, aka: Chicken rolls with Prosciutto, Spinach, and Mozzarella
4 skewers, for holding the chicken rolls together.
4 large individual boneless chicken breasts, about 16-20 oz. (500g)  **if you're able to swing it, buy the breasts in twos, still connected in the middle, like are available at my butcher shop here. Ask for the breasts to be butterflied by your butcher or meat counter
1 bunch spinach, about 3 cups of leaves, packed
4 oz. mozzarella cheese, shredded (about 1 cup)
1 medium bell pepper
1 large yellow onion
20 slices prosciutto, approx. 3.5-4 oz
1 1/2 cup tomato sauce
First, soak 4 small skewers in water to use later. Preheat oven to 380°F.
Prep the chicken breasts. Rinse and pat breasts dry. Place a cutting board over a kitchen towel on the counter, then lined with 2 layers of saran wrap. Place 2 individual chicken breasts side by side in the center, just slightly overlapping. Cover with another long piece of saran wrap. Using a meat hammer, mallet, or my weapon of choice–last night's wine bottle–pound the meat flat, until only about 1/8-inch thick. Some parts of the chicken may be thinner than others and some may rip, but don't worry about this. Just make sure the middle stays together.
Remove the top layer of saran wrap temporarily, adjusting parts where necessary, and season liberally with up to 1/2 teaspoon of salt and plenty of ground pepper. Replace saran wrap and transfer the entire thing (both layers of saran wrap and all) onto a large baking sheet. Repeat with second set of breasts.
Transfer the baking sheet with both pounded breasts to the freezer. This will firm up the meat a little and make it easier to "stuff" and roll later on.
Now prep the filling. First, shred mozzarella and set aside.
Next, slice the onion and red bell pepper into long thin pieces. In a saute pan, heat about 1 Tbsp. olive oil until hot and add onions. Cook for 3 minutes, and add bell pepper. Cook for another 7 minutes, until onion and bell pepper mixture turn completely soft.
While the onion and bell peppers finish cooking, boil a small pot of water. When water is boiling, drop in spinach for about 45 seconds. Strain, and rinse under cold water. Squeeze dry–you'll only have a handful after it's boiled down–and chop.
Set up your ingredients around a large cutting board, keeping everything at hand, including the skewers. Working one at a time, take the pounded breasts out of the freezer and transfer to the cutting board. Align the meat so the longer side is towards you, discard the top layer of saran wrap. Layer 10 pieces of prosciutto (or 1-2 ounces) directly on top of this layer of chicken. Next, on the leftmost two-thirds of the chicken, spread half the onion and red pepper mixture, patting down and leaving about a 1/2-inch border. Place half of the chopped spinach on top, also patting down, and then a couple heaping tablespoons of mozzarella cheese, also patting down (check out that gif below, woooohoo!).
Turning the chicken and stuffing counter-clockwise 90° so the end with the stuffing is closer to you, begin to roll. As you roll, you may peel the chicken away from the saran wrap meanwhile tucking the bottom end tightly like you are rolling a yoga mat (I'm assuming here that this makes sense). Make sure to keep the ingredients compact as you go. You can use the saran wrap to lift up the breast and make it easier to roll over itself. After the first tuck or two of meat, fold in the left and right sides so your filling doesn't completely fall out of the sides (this doesn't have to be perfect). Because you've popped the meat in the freezer, this should hold a little easier. Continue rolling, as tightly as you can, keeping mind of the sides too. When you reach the end, use the skewers to hold the rolled chicken. If you don't have skewers, you can use toothpicks, otherwise just carefully place the meat seam-side down.
In a cast iron skillet, heat 2 Tbsp. of olive oil. When oil is hot, place chicken (seam side down) in the pan. Sear for two minutes until browned, then use tongs to roll over. Sear for two more minutes, flip, and repeat one last time.
Coat both breasts with tomato sauce and, if you wish, sprinkle a couple ounces of additional shredded cheese over the top. Cover with a lid and bake for 25 minutes.
psst- remember when I talked about simple recipes a couple days ago? Yeah, this is a perfect example of one that's NOT.