Same same, but different. This is an expression that everyone knows in Thailand, and one that is heard around Asia in general. It's something that is silkscreened on many a t-shirt seen on the streets and the subways.  It also perfectly epitomizes how I feel about the egg roll.
In the Chinese language, the appetizer that Americans know as the fried egg roll is actually called a "spring roll", stuffed with a light vegetarian filling comprised of vermicelli, shiitake mushrooms, carrots, Chinese celery, and green onions, then lightly fried and served piping hot. Rarely does the roll take the form of those large, fried, cold, meaty and chewy chimichanga-like foodstuffs I remember from my junior high school cafeteria.
I'm Chinese-American, and I can't recall any instances when my family sat down and ate egg rolls as part of our meal (apart from my unfortunate and unplanned run-ins with the school lunch lady), regardless of whether we were dining out or sitting around our own dining room table. I wonder, since when did egg rolls, along with the likes of one completely fabricated dish named General Tso's chicken, represent Chinese cuisine, both in the minds and tastes of America? Having seen the delineation of various regional foods and flavors possible in the Chinese cuisine, I bow my head in disgrace for the unfortunate miscommunication that happened somewhere across the Pacific.
Wait a minute though, I suppose we did have egg rolls growing up- or at least, a dish that when translated is literally "egg"+"roll".
Mom would make these on special occasions, usually for dinner parties, but every once in a Blue Moon on those few occasions when there was nothing going on over the weekends- no soccer games/piano recitals/basketball practice/OM meetings/birthday parties/speed reading classes/sculpture/oboe lessons/tutoring sessions/drawing classes scheduled (Tiger Mom ain't got nothin' on my mother).
Her egg roll was just that, a thin crepe-like layer of egg griddled into a pancake, then rolled up with a fragrantly seasoned ground pork stuffing inside. Cut thinly into bite sized pieces, on our table the egg roll would be arranged among a heap of simmered napa cabbage and vermicelli noodles.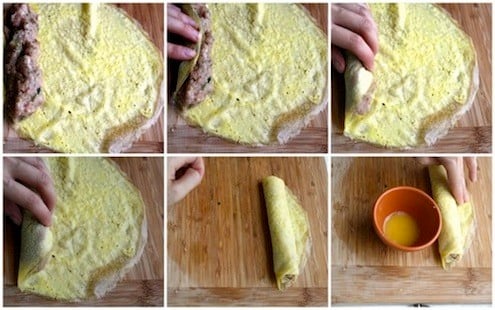 Pork is the meat of choice in China – although nowadays the country's interest in beef (not to mention dairy) is quickly gaining ground. Year-round availability of scallions, fresh mushrooms, and ginger gives the cuisine- and this dish in particular- its signature flavors. The chopsticks as lone utensil gives reason for the deliberate slicing into bite-sized pieces, and the laborious prep countered by a quick sauté/steam in a wok is exemplary throughout all Chinese dishes.
This is an egg roll that is much more representative of Chinese cookery than any egg roll you've encountered in the past. It is a distant cousin to its American counterpart- but really, the relation is so distant they're practically not related. They just somehow happen to share the same name.
For the original posting of the article and a full recipe, head over to Honest Cooking, where I am one of their newest contributors!